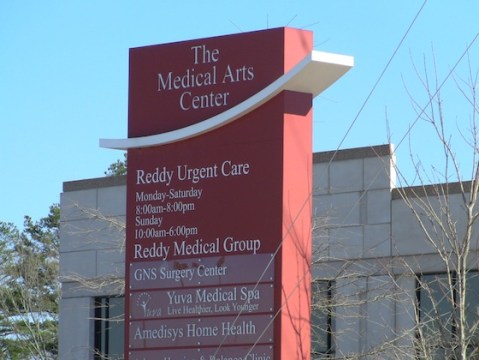 A sudden ache or illness is troubling at the best of times. And if you can't get in to see your primary care provider — or don't have one — the situation can be worse still.
At such times, many people turn to the emergency department (ED) at the nearest hospital. Often known as the emergency room or ER, it can be the first place that comes to mind in an unexpected medical situation.
But unless a patient's condition appears life-threatening — with symptoms such as severe chest pain, inability to breathe, or signs of stroke, for example — the hospital emergency department is often not the best choice.
People who go to hospital emergency departments when there's no real emergency are inconveniencing themselves and hurting the system. Misuse of EDs accounts for $4.4 billion in waste annually and contributes to the high cost of American health care.
Patients with insurance are often unaware of the actual costs of the medical care they receive at an ED, because they pay little or nothing out of pocket. But that is changing. Nowadays more hospitals are charging upfront fees for non-urgent ED visits, and more individuals are buying insurance plans with high deductibles. Health consumers may be forced to start paying more attention.
If a person has an illness or an injury that warrants immediate attention but isn't likely to be life-threatening, an urgent care center may be the best bet. These clinics, which take walk-in patients and are open fairly long hours (though generally not around the clock), are usually cheaper than EDs. Perhaps more importantly, they are often quicker, too.
The wait can be painful
One of the biggest misconceptions among patients who come to the ED is that they will be seen on a first-come, first-served basis, said Kathleen Kriebel, a registered nurse in the emergency department at Athens Regional.
But the very nature of emergency care makes such routine customer service impossible. When patients arrive at Athens Regional Medical Center for emergency care, a triage nurse uses the emergency severity index, or ESI, to decide which of them will get priority. The majority of U.S. hospitals use it.
Based on the ESI, the nurse determines the severity of each patient's condition, what kind of care the person needs, and how long the person can wait for it.
For instance, a patient experiencing severe chest pain or other heart attack symptoms will be seen immediately. A patient with a sore throat, who may have arrived earlier, will have to wait for an indefinite period, possibly a long time, depending on the hospital and the circumstances.
Patients have other misconceptions about hospital emergency departments, Kriebel said. Some believe that being transported to the ED by ambulance will automatically get them admitted to the hospital and assigned a bed. That is not true.
She said some patients actually believe they can get the same kind of routine care through the ED that they would from a primary care physician. That is definitely incorrect.
Urgent care centers are increasingly numerous and conveniently located. Reddy Medical Group in Athens operates one in the same building as its primary care facility, though the two function separately.
In many cities and towns, retail stores contain small clinics that handle urgent care patients. Two examples are the Little Clinic in Walmart and CVS's MinuteClinic, where nurse practitioners or physician assistants treat minor aches and illnesses from earaches and strep throat to poison ivy and bladder infections. Prices vary by service, but insurance may be accepted at certain locations, and the clinics are open longer than a typical doctor's office.
Sunita Singh, vice president of business development at Reddy, said although urgent care is not meant to replace primary care, it is a beneficial option for patients.
"It's a good alternative, where you can get stabilized until you're able to see your doctor," Singh said, adding that urgent care is more or less like a doctor's appointment.
At Reddy Urgent Care, walk-in patients are not triaged. They are seen in the order in which they arrive, unless there is an extreme case in which the patient may be at risk. Singh said a patient generally spends about an hour in the urgent care facility, and that time includes treatment and discharge.
Urgent care is more economical
Choosing an urgent care facility over a hospital emergency department can be just as much a money-saver as a time-saver.
Take, for example, an uninsured person who has a headache, a fever, and a sore throat with pus around the tonsil area. At Reddy Urgent Care, the bill would come to about $140 for a first-time visitor, which includes a strep test and a 25 percent discount because the patient is uninsured. That's all the patient would have to pay, aside from getting a prescription filled if necessary.
In the emergency department at Athens Regional, the same patient would be charged about $413 and would not receive a strep test. This includes the pain medicine that would be given at the time of the visit, the ED visit itself, and a 40 percent discount because the patient is uninsured. However, the bill does not include charges from the independently contracted doctor who examines the patient, or any prescriptions the patient may need.
Singh said many individuals are not educated about the respective uses of urgent care centers and EDs. Occasionally — in a reversal of what usually occurs — patients come to Reddy Urgent Care when they should have gone to the ED.
When that happens, and the patient needs hospital-level care, the staff at Reddy will send records, such as X-rays, to the hospital and call ahead to help cut the patient's waiting time, Singh said.
"It is our job to take care of the patient," she said, "If we can't do it, someone has to."
April Bailey is in her first year of a master's degree in telecommunications at Grady College of Journalism and Mass Communications.