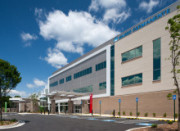 Kaiser Permanente again ranked No. 1 in customer satisfaction among health plans in the three-state region that includes Georgia, according to a newly released 2013 study by J.D. Power and Associates.
It's the fourth straight year the nonprofit health plan gained the top ranking in the South Atlantic region, which also includes North Carolina and South Carolina.
Kaiser has 240,000 members in Georgia. It does not operate in the Carolinas.
Second in the region was Cigna, followed by UnitedHealthcare; Aetna; Blue Cross and Blue Shield of North Carolina; Blue Cross and Blue Shield of Georgia; Coventry; and Blue Cross and Blue Shield of South Carolina.
The study by J.D. Power – famous for its automobile reviews – surveyed 33,000 health plan members nationally in December and January on factors that include coverage and benefits; provider choice; information and communication; claims processing; and customer service.
Nationally, the survey of members in 136 health plans also found the idea of health insurance exchanges, coming in January, is sparking interest among people who purchase insurance directly, as well as those with high-deductible policies and/or lower levels of overall satisfaction.
Nearly three-fourths of health plan members who purchase insurance on their own instead of through their employer say they "definitely will" or "probably will" shop for coverage using a state exchange, if available, the survey found.
The exchanges, being created in each state under the health care reform law, will seek to offer more competitive rates to individuals and small businesses by pooling these buyers in one group.
A higher percentage of members in high-deductible health plans indicate they are interested in buying insurance through exchanges, compared with those in low-deductible plans (59 percent vs. 45 percent, respectively).
Members with the highest levels of interest in using exchanges include those who have contacted their health plan regarding a problem during the past year (60 percent), compared with those who have not reported a problem with their health plan (45 percent).
"If a member has experienced problems and perceives the possibility of having more control over costs through exchanges, this new purchasing method may become more appealing." said Rick Millard, senior director of the health care practice at J.D. Power and Associates, in a statement.
Among other findings:
* A majority (59 percent) of health plan members say they had only one health plan available to select at the time of enrollment.
* Slightly more than half (51 percent) of all members say their premium cost has increased during the past year.
* Interest in exchanges is highest among health plan members in small companies (53 percent), followed by those in medium (48 percent) and large (43 percent) companies.
Satisfaction is highest among health plan members in the Michigan, Texas and East South Central regions (Kentucky, Louisiana, Mississippi, Alabama and Tennessee), and is lowest among those in the Mountain (Arizona, Nevada, New Mexico and Utah) and Colorado regions.
In the South Atlantic region, member satisfaction overall declined by seven points in 2013 compared with the year before.