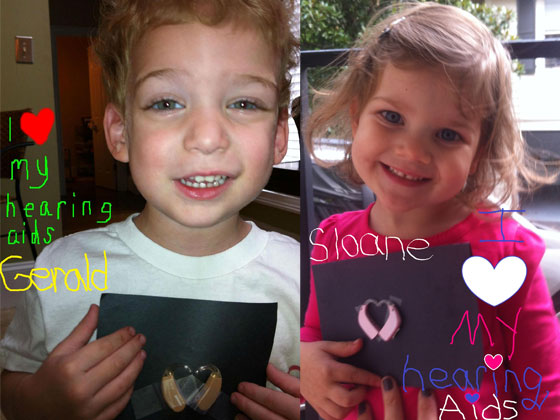 Gerald Kogon was born three years ago with bilateral hearing loss.
The family's health insurer didn't cover the hearing aids he needed, says his mother, Sara Kogon of Sandy Springs. Fortunately, she adds, the family can afford to pay for them out of pocket — which amounts to $5,000 to $6,000 every three to five years.
The situation is similar for the parents of Sloane Jenkins, also 3. They can afford the hearing aids she needs.
But many parents with hearing-impaired children live on very tight budgets. They struggle to find the money for hearing aids.
"We are really concerned about so many of these families,'' says Sara Kogon.
She and Kelly Jenkins are among parents who have pushed for a bill in the Georgia General Assembly that would require insurers to cover hearing aids for children.
Twenty other states have such laws, with another 10 working on them, the two women say.
But enactment of such a law in Georgia is not on the immediate horizon.
Georgia House Bill 74 isn't going anywhere during this legislative session. Nor is another "mandate'' bill requiring coverage for medical foods for metabolic and genetic disorders, and food tolerance and absorption disorders.
A third bill, which would require coverage of "evidence-based'' treatments for autism, is also stalled.
All three of these proposed measures have passionate supporters among parents and other advocates. But all three face a built-in hurdle.
The year when nothing happened
A law enacted two years ago requires that any legislation that would mandate some form of insurance coverage must go through a commission. The panel must assess the social and financial impact and the medical efficacy of the proposed benefit.
And the panel has not even met yet.
The 2011 legislation required the commission to meet last year, and also to review existing mandated benefits. But neither of those things happened.
The commission's first meeting will occur March 12. That date is likely to fall after Crossover Day, the day during any legislative session when a bill must have passed at least one chamber or be dead for the year. So the insurance coverage proposals have effectively run out of time in 2013.
Gov. Nathan Deal last week announced members of the commission, ranging from physicians to corporate officials and insurance officials.
"The mandated benefit commission serves an important role of developing cost-benefit examinations for proposed health insurance mandates," the governor said in a statement.
"Unfortunately, the current health insurance market is largely unpredictable because of the changes required by Obamacare,'' Deal said. "It is important to analyze proposed mandates in light of the new laws in order to fully vet their impact both socially and financially.''
State Rep. Richard Smith (R-Columbus), who's chairman of the House Insurance Committee and a member of the new commission, noted last week that the mandates, even if passed, don't apply to employers that "self-insure'' their benefits — most large and medium-sized companies.
And self-insured companies cover an estimated 65 percent of Georgia employees who have private insurance.
Graham Thompson of the Georgia Association of Health Plans says the commission is a prudent way to study the effect of these various kinds of coverage. He says any newly passed mandates must be paid for by state funds in the coming health insurance exchanges, part of the federal health reform law.
Opponents of mandated coverages argue that they add to the price tag of health insurance, making coverage unaffordable for small businesses and individuals.
Still, parents and others have pushed hard to move their legislation forward.
The autism legislation, supporters say, would cover speech, occupational and physical therapy, as well as behavioral therapy, for children.
Rep. Ben Harbin (R-Evans), chief sponsor of the autism legislation, House Bill 309, told 11alive recently, "There are powers that be that don't want to see it moving."
"The downside if this is delayed a year [is] . . . another year of therapy that these children aren't getting," said Harbin. "There's a tremendous impact on their quality of life down the road."
Harbin also raised questions about the validity of the mandate commission law, since the state took no action last year to follow the law by convening a panel. "It's not like they missed it by a few days,'' he said. "We're talking about an entire year delay."
But Sen. Tim Golden (R-Valdosta), who was lead sponsor of the mandate commission law, told 11alive that the commission's failure to meet doesn't call the law itself into question. "It's still an important committee that's going to do important work," Golden said.
Activists take the long view
Supporters of the autism coverage rallied recently at the state Capitol, pushing for a hearing on their bill.
Judith Ursitti, state legislative director for Autism Speaks, an advocacy group, says 32 states have passed a similar autism law. The autism coverage in Georgia has been a multiyear effort.
Without these mandated requirements, the vast majority of insurers don't cover these therapies for autism, Ursitti says.
"This is personal with me,'' says Ursitti, who has a 9-year-old son with autism. She lives in Boston, but she and her husband have ties to Georgia.
The extra coverage would cost 32 cents per member per month, she says. The delay in passing the legislation, she adds, "is excruciating when you think of the impact on human lives.''
Most insurance companies in Georgia also don't cover hearing aids, Kogon says, adding that a mandate would cost just 25 cents per year per covered person.
"Everyone said Georgia doesn't do mandates,'' Kogon says. "We're optimistic."
She points out that government programs Medicaid and PeachCare cover hearing aids for children.
Kogon understands the battle may be postponed till 2014, but intends to be part of it. "This is right for the children of Georgia,'' she says. "We're not going away.''