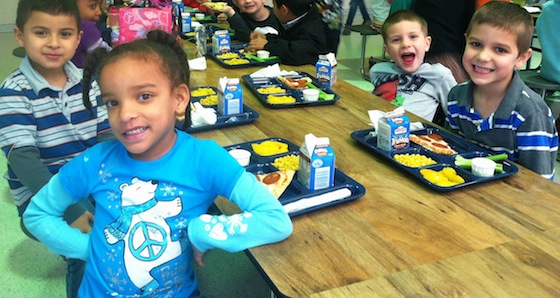 Cole Cook stands out among his peers.
At 17, he's already 6 feet 6 inches tall and weighs 228 pounds. The high school junior is a tight end on the Carrollton High football team and being aggressively recruited by some of the best college programs in the country.
Not surprisingly, Cook has a healthy appetite. But in this era of "lighter" school meals, does a fast-growing teenager in a calorie-burning sport get enough to eat in the lunchroom? Or does he leave the table still hungry?
Cook says he does just fine.
He praises the program instituted by the Carrollton High nutrition director, registered dietician Linette Dodson, and her staff. He says it meets even his exceptional needs.
"They really give me good protein and nutrients and good carbs, so I can make it through practice and not cramp up or go down because of lack of nutrition," Cook says. (The program does not have a special meal for athletes, but everyone has the option to purchase extra servings.)
But this school nutrition program has done more than win over a star athlete. It has won national acclaim – for its healthy offerings. Its success is proof that it is possible to maximize nutrition while satisfying student appetites.
A push for higher standards
In 2010, the national Healthy, Hunger-Free Kids Act was implemented, allocating $4.5 billion to help schools meet new nutrition standards. The bill puts strict requirements on the food that can be available to public school students, mandating that it be higher in nutritional value and lower in empty calories.
Although many school systems struggle to meet the requirements of the act, Carrollton City Schools are exceeding expectations. In spring 2012, the USDA recognized Carrollton City Schools for reaching Gold status in the Healthier US Schools Challenge. The requirements for Gold are more rigorous than those of the Healthy, Hunger-Free Kids Act.
Carrollton is the only school system in Georgia to achieve this status. Nationwide, less than 3 percent of schools that took the challenge reached this achievement.
"We went to offering as many whole grain options as we possibly could," says Dodson. "The regulations say 50 percent, but we're trying to get to 100 percent, and some of our limitations are just availability of products. So, as those become more available, we're getting very close to having 100 percent all whole-grain items."
Grants provide funding for schools to get fresh produce from local farms and gardens. And the federal Hunger-Free law increased the number of children who qualify for free or discounted lunches and reimbursement for after-school meals.
American youngsters are accustomed to diets high in sugar and starch, and complaints about school lunches are as old as public schools themselves. So some pushback against the new standards was probably inevitable. And it has come.
Many students around the country now complain that school lunches are no longer satisfying. A group of high schoolers in Kansas, expressing their displeasure through satire, created a video called "We Are Hungry" – a parody of the song "We Are Young." It showed them appearing to collapse from hunger because of skimpy school food. The video has been viewed more than a million times on YouTube.
Dodson ensures that the meals in the Carrollton City School System are sufficient that students won't be left hungry, and that the food exceeds nutritional standards. She admits, however, that student tastes have to be reckoned with. Feeding kids things they've never seen before can prove difficult, she says.
"Obviously, if they haven't been introduced to it at home," says Dodson, "being introduced to it at school can be a little challenging."
Dodson insists on providing her students with the very best in nutrition, regardless of initial reactions to some new foods.
"The application process for the Healthier US School Challenge certainly made us re-evaluate menus and make some adjustments by offering very specific vegetable subgroups," Dodson says.
The "new" foods have won many students over. Although the school lunch purchase rate has remained the same, the number of items picked up in the line, such as fruit and vegetable sides, has increased. The number of students eating breakfast at school has increased as well.
Getting the kids involved
The key to success in the nutritional program lies in empowering the students.
Students are educated on nutrition in science and physical education classes. They are given an increasing number of choices as they progress from one school to the next. Bulletin boards and posters remind students of healthy food choices. Students on each school's Nutrition Advisory Council are even consulted on new recipes and cooking techniques suggested by local chefs.
"We do a lot of nutrition ed within those groups," says Dodson, "And then we let those students be ambassadors for our program to the other students."
Students aren't the only ones to benefit from the new lunches. Food services employee Keila Carter enjoys seeing elementary school students happily eating carrots and has gained enthusiasm for her own health.
"I find myself eating more fruits and more vegetables," Carter says. "Instead of taking some chips or some cookies, I find myself eating carrots or celery."
Buying higher-quality foods is generally more expensive, but some of that cost has been offset by the numerous grants that Dodson has acquired, including a USDA Planning Grant, which will allow her to serve more food purchased directly from local farms.
Dodson has also dealt with the financial loss brought on by eliminating some vending machine items. (Machines no longer offer candy or chips, and the drink machines are limited to water and 100 percent juice.) Money from the sale of stickers, T-shirts and other school spirit items have made up for some of those losses.
As her work gains ground within the schools, Dodson hopes the principles of nutrition will prevail throughout the community. Her next projects will work toward increasing partnerships to build community involvement.
But as always, Dodson's primary concern is the students.
"I hope that we're laying a foundation [for] healthy choices that will follow them throughout their life."
Jodi Murphy is a graduate student at the University of Georgia Grady College of Journalism and Mass Communication, pursuing a concentration in Health and Medical Journalism. She is particularly interested in environmental and global health, as well as women's issues.