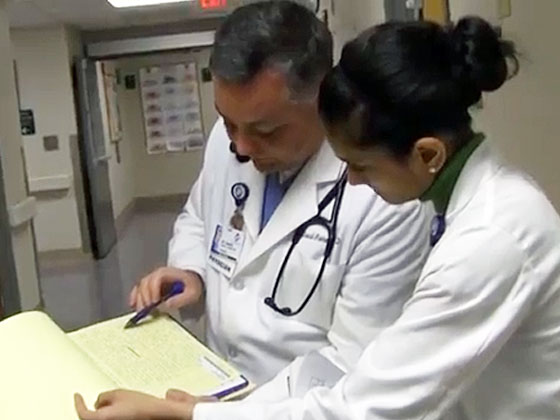 A major cultural shift is under way in the two community hospitals that have been serving Athens for generations.
In such a storied university town, it may seem surprising that the change did not happen long ago.
While medical students are a part of the landscape at big university hospitals across the country, they are appearing for the first time at St. Mary's Hospital and Athens Regional Medical Center. State officials hope these doctors in training will stay in Georgia long after medical school.
Medical students typically begin clerkships – short periods of hands-on training in various medical specialties – in hospitals and clinics during their third year of medical school. The inaugural class of 40 students at the Georgia Health Sciences University – University of Georgia Medical Partnership, which opened in 2010, are now in their third year and rotating through clerkships in the two area hospitals.
Several Georgia medical centers, including St. Mary's, Athens Regional and a consortium of South Georgia medical facilities, anticipate taking on their first medical residents – newly minted M.D.s learning a specialty – in the next three to four years.
As the students rotate from one clinical specialty to the next, they observe their preceptors' every move and follow suit under tight supervision. More than 140 physicians in the Athens area signed up to teach the students, according to Dr. Michelle Nuss, the campus associate dean for graduate medical education.
Patients at established teaching hospitals in Atlanta or Augusta are accustomed to seeing senior physicians trailed by residents and medical students. But Athens patients are still getting used to interacting with young people who are on the road to becoming doctors, but aren't there yet.
"Patients are used to having a private meeting, discussion and relationship," said surgeon Toby Tally, who coordinates surgical clerkships for the new medical school.
"Now," she added, "there is another person in the room, so that makes people uncomfortable."
In some cases, patients may simply be unsure how they are expected to relate to the students. Should they view a medical student as a doctor, as a hospital staffer or as something else?
"A lot of patients don't understand what the role of a medical student is," said Dr. Terrence Steyer, who chairs the Department of Clinical Sciences at the med school. Not knowing exactly what a student can or cannot do may cause patients to expect too much – or too little – from doctors-in-training.
[youtube]http://www.youtube.com/watch?v=J_2i9caBJA0[/youtube]
Patients' reactions are mixed
Uncertainty aside, there is evidence that students can play a positive role in how patients experience their own care.
In one recent study, two-thirds of patients approved of med students being in hospitals, and more than half felt comfortable with the students. Some patients at Athens hospitals are similarly inclined.
"Many patients feel like they're getting better care," said Steyer. "They feel like they get two doctors for the price of one." Med students are not doctors yet, but they lend another attentive ear to patients.
But more ears mean more time in the clinic for patients. Most of the time, patients have to tell their story to the doctor and then to the med student, said internist Mary Bond, who coordinates medical clerkships for the school. She said, "the duplication is probably one of the hardest things [for patients] to get used to."
On several occasions this fall, students went in to see a patient and were told, "I've already done this," Bond noted.
For David Wells, a patient admitted for surgery at St. Mary's, the time with a student only added to an otherwise long day. "This is the seventh or eighth time today I've had to tell this story," said Wells recently. "After twelve hours of this, it gets a little bothersome."
Such frustration among patients is not lost on Bijal Vashi, the med student who spoke with Wells. "Some patients are just so miserable, they really don't want to tell the same story again," Vashi said during her internal medicine rotation.
Eventually, the experience of interacting with med students will become old hat for patients at the two Athens hospitals, just as it has for many thousands of patients accustomed to receiving care at teaching hospitals around the nation. And what's happening in Athens now is just the first step: Next, there will be fourth-year students in the hospitals as well, followed by residency programs.
Empathy comes through
Emory University's health care system trains more than 1,100 residents at any one time. The residency program in Athens will be small by comparison, with probably about 125 slots.
Northeast Georgia Medical Center in Gainesville and Gwinnett Medical Center's locations in Lawrenceville and Duluth plan to launch residency programs with an additional 200 spots.
In the meantime, students are doing their best to establish meaningful relationships with their patients. "Patients are finding out that medical students have become a part of their life," Steyer said.
When a patient whom Steyer had cared for in the hospital was moved to St. Mary's Hospice House, one student – though officially off duty – went and sat with the man until he drew his last breath, Steyer said. Soon afterward, the patient's widow phoned Steyer to express appreciation for the student's kindness.
Other medical students pay extra visits because they hope to relieve some of the tedium associated with long hospital stays.
"I would go and just see them and see how they were doing for the rest of the day," said Peter Karempelis, a third-year student. "I think that kind of helps some of the patients who were a little more uncomfortable with having a student being in the room," he said.
At the end of the day, Karempelis said, no one can force a patient to interact with medical students, and some patients actually refuse.
"It can be frustrating at the beginning, but as long as you've got an open mind and can roll with whatever comes for the day, then you should be fine," Karempelis said.
Jason Azurmendi earned a bachelor's degree in film and video at Georgia State University in Atlanta. He is now finishing a master's degree in journalism and mass communication at the University of Georgia while completing the prerequisites for medical school.