A year of improvements in child care earned a new three-star rating for Explorations Christian Academy.
Suezenette McDonald, who runs the Explorations service in Lawrencville, achieved that top rating by enlarging her playground, improving the nutrition and learning materials, and adding safety features, among other enhancements.
"Parents love it,'' McDonald says. "Parents see what the children are taught, and are much more involved now.''
She received technical assistance and funding through the state's Quality Rated program, a public-private partnership that aims to improve the early child care and education services in Georgia.
McDonald joined an event Friday at the Arthur M. Blank Family Youth YMCA in Atlanta that promoted the Quality Rated partnership, which includes the Georgia Department of Early Care and Learning, Lt. Gov. Casey Cagle's Healthy Kids Georgia program, and Dole Food Company.
The organizations have joined together to fight obesity through improved nutrition and exercise.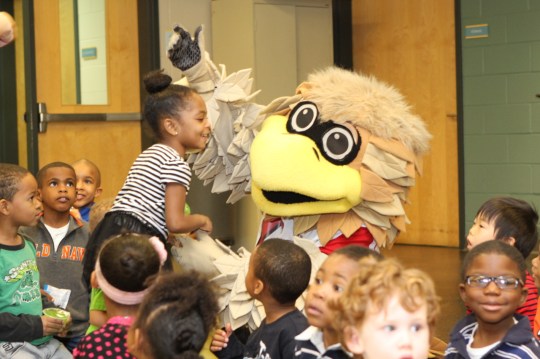 Georgia has the second-highest childhood obesity rate in the nation – a problem that government and private organizations have targeted for improvement.
"Georgia's childhood obesity epidemic is too large for any one organization or person to address alone,'' said Cagle. "We must work together to collaboratively present our children and families with healthy lifestyle options so we can bring about real change and tackle this daunting challenge."
Licensed child care providers can achieve the Quality Rated designation of one to three stars by providing a learning environment that also features physical activity and good nutrition.
The program is unique because it includes private benefactors and sponsors, said the Department of Early Care and Learning (DECAL).
Dole Food Company helps provide snacks and educational materials, and the Arthur M. Blank Family Foundation offers funding for the financial incentives that child care organizations can achieve. The Metro Atlanta YMCA is another partner.
The goal is "better outcomes for children, academically and physically,'' said Donovan Lee-Sin, program officer at the Blank Foundation. "The status quo isn't good enough.''
The time from birth through age 5 is key to a child's development, noted Bobby Cagle, commissioner of DECAL.
He said Quality Rated has attracted more than 1,000 child care facilities as applicants, with the first group coming through to get a star rating.
Suezenette McDonald is thrilled about the program. "It's a wonderful thing,'' she said. "Georgia is heading for better and brighter things.''