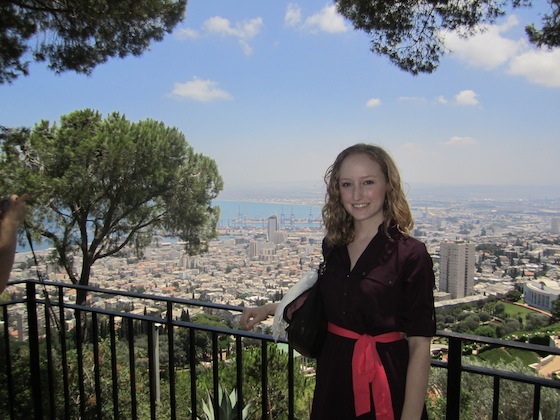 Many future doctors enter medical school with the dream of one day treating diseases, but Theodora "Teddie" Brandon sees medicine differently.
"I think it's important to prevent disease and not just treat it. Some of the biggest advances in improving health in the last century have been in public health – with vaccines, sanitation . . ." said Brandon, a student at the three-year-old Georgia Health Sciences University-University of Georgia Medical Partnership in Athens.
This year, Brandon will become part of a growing trend in U.S. medical education. She will take a break between her second and third years of medical school, and will spend the year getting another academic degree. That puts her on track to be the first student from the medical partnership to earn both a medical degree and a master's degree in public health, the latter from the University of Georgia's College of Public Health.
Typically, only a small slice of medical education deals with the prevention of disease and maintenance of good health at the community level. Yet decades of research show that much of a person's health status is influenced by economic and social conditions, primarily poverty, which can lead to such problems as poor nutrition and inadequate shelter.
Brandon is one of a growing number of U.S. medical students who want their medical education to cover those factors, too.
As the first, and so far only, student at the young medical partnership to take this path, she's sort of an anomaly in Athens. But more than 80 of the nation's 141 accredited medical schools sponsor joint M.D./M.P.H. programs.
"In general, more medical students are getting dual degrees," said Aliye Runyan, who is a physician and the education and research fellow at the American Medical Students Association. Among the additional degrees that med students pursue are the master's in business administration and the master's in public policy, but the master's in public health (M.P.H.) is the most common, Runyan says.
[youtube]https://www.youtube.com/watch?v=_TmnpfnLkgU[/youtube]
New ideas for a new reality
A degree in public health may give docs an edge in a health care system redesigned by the Affordable Care Act (ACA), the federal health reform law that was passed in 2010 and is being implemented in stages.
"A public health knowledge base can be helpful with the trends toward team-based care that the ACA pushes forth and can help physicians understand how a new policy can affect a larger group of people," Runyan says.
Physicians with expertise in public health may also work outside of traditional clinical practice. Those who hold the dual degrees can be found in state public health departments or community health centers, in administrative positions or working as epidemiologists, among a host of other options. They may also lead research at academic medical centers or lead global health initiatives through national or international institutes.
Brandon hopes to use her training to become an epidemiologist with the Centers for Disease Control and Prevention or the World Health Organization.
Driven by this long-term goal, she figured it was now or never to get her additional degree. "After I become a physician, it [will] be hard for me to come back to school," she said, "so I might as well do it now."
The dean of the medical campus, Dr. Barbara Schuster, worked with public health faculty members to devise a one-year M.P.H. program for Brandon.
"As I support each medical student to follow his or her passion, I fully support Teddie," Schuster said. Having both M.D. and M.P.H. degrees will give Brandon "the opportunity to view health care with a multifocal lens."
Demand for joint medical-public health degree programs, as demonstrated by Brandon, may be an early sign of a greatly needed movement in health care, a renewed interest among medical students in primary care.
"M.D./M.P.H. students tend to be more drawn to primary care careers and social aspects of medicine," says Runyan.
That's good news, since the Association of American Medical Colleges projects the nation will be short 21,000 primary care doctors by 2015. Those in medically underserved areas – urban centers with high concentrations of poor minority residents, and rural regions where the population is widely scattered – suffer most from this shortage. Doctors drawn to so-called "social aspects of medicine" would be more likely to practice in these areas where much of the population is served by community health centers.
Student reluctance is a problem
The concept of diversifying doctors' education is catching on in some quarters, but it still has a long way to go.
A recent study of medical schools around the world showed that faculty members have tried to increase medical students' awareness of social factors among medical students. Almost everywhere, however, the effort has had little success, according to Dr. Milton Roemer, a public health professor and researcher for 38 years at the University of California, Los Angeles.
One tremendous barrier is the negative attitude toward such programs. Though more than half of U.S. medical schools sponsor joint degree programs in public health, the discipline is at the bottom of the academic prestige ladder in the eyes of most medical school students and faculty members.
Many medical students find public health education dull in comparison to the exciting advances in biomedical sciences, Roemer says. They also tend to not see health policy or population-wide interventions as their job.
Despite all this, Brandon is determined to cultivate both kinds of expertise, and members of the public health faculty hope more students will follow in her footsteps.
"We need doctors to be more oriented to public health in the U.S.," said Dr. Richard Schuster, who teaches global health systems at UGA's College of Public Health. "Only through prevention and population-based approaches to health care can we make progress."
Jing Luo is pursuing a master's degree in Health and Medical Journalism as well as a Global Health Certificate from the University of Georgia. As an independent journalist, she writes for both English and Chinese media on science and medicine topics.