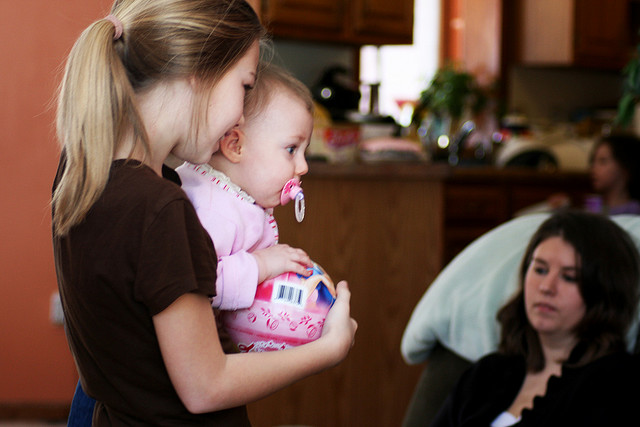 "It is easier to build strong children than to repair broken men."
Those words are from 19th-century writer and abolitionist Frederick Douglass, who had to personally overcome the burden of being born and raised in slavery. But they are still relevant today: They were used to introduce a recent policy statement by a leading pediatrics organization on how toxic stress undermines early brain development.
A lead author of that American Academy of Pediatrics article, Dr. Jack Shonkoff, spoke last week to an Atlanta audience about how stressors such as poverty, violence, malnutrition, abuse and neglect damage a child's brain when it is at its most flexible or pliable state –- in the earliest months and years of life.
Parents who know how to aid learning, along with good nutrition, stimulating experiences and a health-promoting environment, can build a strong foundation for a child's brain development, Shonkoff, a pediatrician and director of Harvard's Center on the Developing Child, told an audience at the Arthur M. Blank Family Foundation.
These experiences build the architecture of the brain, Shonkoff said.
"Every second, 700 new synapses are being made in that baby's brain,'' he said. A 3-year-old, he noted, can learn a language better than a 30-year-old.
Shaping minds for better or worse
Much of this science falls into the category of "my grandmother could have told you that,'' said Shonkoff, who used down-to-earth expressions to make his points, often with a sense of humor.
The downside of the great pliability of the developing brain is that prolonged exposure to stress can disrupt its circuitry, Shonkoff said.
And those negative childhood experiences can increase the likelihood for adult heart disease, diabetes and other health conditions. "Early life experiences are literally built into our bodies, for better or for worse,'' Shonkoff said.
Nurturing, supportive relationships can help a child handle stress.
Learning to deal with stress Is part of healthy development, Shonkoff said. But too much stress, without those crucial relationships to help the child cope, leads to a stress response system "set permanently on high alert.''
That can also reduce neural connections in the brain.
Having such a stressful start in life "is not a death sentence,'' Shonkoff said. But he added that if there is a crack in the foundation of a person's mental welfare, "the system has to work harder.''
There are wider opportunities –- in preschool, in late teenage years and early adults –- to build up a person's ability to solve problems, adjust to changes, learn self-control and follow directions, Shonkoff said.
What can communities do to protect the child's brain?
What can a state such as Georgia — with its high levels of poverty, uninsured people and widespread health problems such as diabetes and obesity — do for its children?
An appeal for more action
Shonkoff and the Academy of Pediatrics suggest, for a start, programs to educate parents, child care workers, and preschool teachers.
Other steps they recommend: providing a good primary care system, child welfare system and public health services; strengthening mental health services for women, who are prone to depression after giving birth; having health care professionals visit the homes of at-risk children; and family leave programs.
This early investment, Shonkoff said, will prevent extra costs to the state, such as for remedial education and even incarceration, later in people's lives.
Penny McPhee, the Blank Foundation's president, said in introducing Shonkoff that ''Georgia's future is resting on how we invest in our youngest children.''
"What happens to children from birth to [age] 5 shapes the rest of their lives,'' she added.
Here's a link to Shonkoff's lecture at the Blank Foundation.