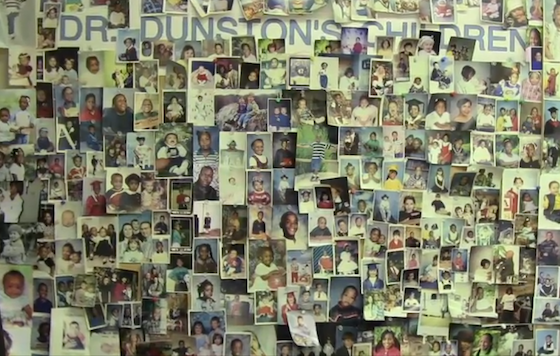 Dr. Martha Cottrell was so eager to practice in Athens' first community clinic for the poor that she volunteered for the job before the clinic even existed.
A product of President Lyndon B. Johnson's Model Cities initiative, one of the Great Society programs introduced in the 1960s to reduce poverty and violence in urban areas, the Athens Neighborhood Health Center celebrated its 40th anniversary last month.
Cottrell, the clinic's first doctor and medical director, spoke at the celebration held at Trumps Catering and attended by past and present staff and board members, community residents, and Mayor Nancy Denson.
Ever since her childhood in south Alabama, Cottrell has had a desire to help the needy. "I was brought up to believe that those of us who are blessed have a greater responsibility to help those who are not as blessed," said the retired family physician. Still a charismatic personality at age 84, she now leads health workshops in Asheville, N.C.
Cottrell recalls the great need among African-Americans in Athens when the Model Cities initiative was launched. "I was inspired by the fact that people there were trying to put this together," she said.
Cities could apply for the grant money only through a Citizens' Participation Committee. For this, the mayor at the time, Julius Bishop, turned to three strong women in the community who came to be known as the Band of Sisters.
Evelyn "Corene" Neely, Miriam Moore, and Jesse Barnett led the committee. Neely, now 86, spoke briefly at the anniversary celebration. The three women worked with the Athens City Council (forerunner of the Athens-Clarke County Commission), the mayor and other community volunteers to secure a $2.6 million federal grant.
The money was designated for 35 local projects – one of them a clinic to serve the poor.
Finding a building was Job No. 1
In order to obtain the federal dollars, the committee had to show that it had a clinic building. Though Cottrell had already committed to practice medicine for the project, there was no place for her to do so. So she traveled the state until she found a banker willing to put up the funds for a building.
The clinic opened in 1971.
[youtube]http://www.youtube.com/watch?v=7Lb-XeHeqHo[/youtube]
"We started out in a trailer," said Cottrell. "It was a very humble beginning." But the clinic took hold and grew.
Cottrell wiped away a tear during the celebration as she recalled the early days. "It brought up so much emotion for me because it was challenging," said Cottrell, who worked at the clinic for several years. The challenges included a fire that destroyed the trailer in the mid-1980s.
In 1987 the clinic relocated to 675 College Ave., where it operates today.
In 2000, a second location opened at the Miriam Moore Community Center in East Athens. The two sites handle more than 13,000 patient visits each year.
Today the clinic is run by pediatrician Diane Dunston, who came aboard in 1987 in exchange for medical school loan repayment by the National Health Service Corps. At the time, she expected only to fulfill her two-year commitment, but she remained and is now executive director of both locations.
"I am able to see any patient regardless of their circumstances in life," Dunston said. "Especially those who may be economically disenfranchised, living paycheck to paycheck."
Such people are not hard to find in Athens, where 39 percent of residents were living in poverty in 2010.
"Even though we have a high poverty rate, there is a place people can get top medical care from actual physicians," said Melinda Craig, the clinic's administrative director.
Patients invest in their own care
The clinic treats anyone who needs care, whether or not the patient can pay. People who can afford to pay at least a small amount are charged on a sliding fee scale, a system that has been in place since Cottrell's time.
This system is good for both the clinic and the patients.
"If you don't pay for something, you don't appreciate it," said Cottrell. Chipping in for their own care empowers people, she said. "We have to get people to realize that this is their clinic, this is their health, and they need to invest in it," said Cottrell.
There are other benefits as well. Clinics that are financially supported by their communities are in a better position to win government grants. This matters because the clinic, like the people it serves, has been experiencing financial problems for some time now. The clinic operates in the red because it serves so many uninsured and underinsured patients.
"Most people think of a community health center as having large federal dollars," said Craig, "but that's not true."
In 2010, the clinic applied to become a "Federally Qualified Community Health Center,'' but it was turned down.
"As Athens becomes saturated with nonprofit agencies, everyone is competing for the same monies, and funders are having to say no," said Craig.
For now, the federal government regards the clinic as a federally qualified community health center "look-alike," which means it gets enhanced Medicaid and Medicare reimbursement and some breaks on drug prices, but no large lump sum.
These breaks, plus state funding, grants and private donations, have kept the clinic running. And Cottrell is pleased with the clinic's progress over the years.
"To see what this community has accomplished was inspirational," she said. "My heart filled knowing that I had been able to be a part of such a noble experience."