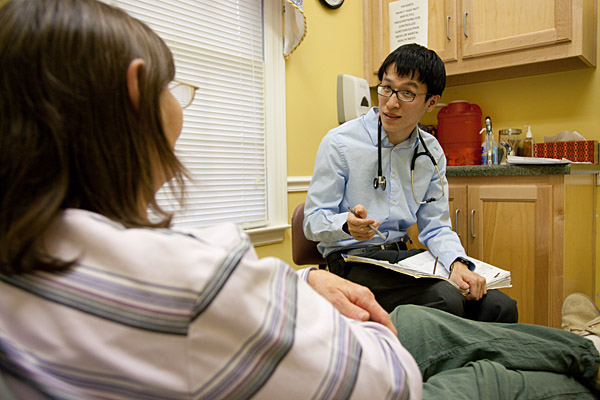 This fall, 40 young doctors-in-training visited local clinics throughout impoverished Athens, mainly just to sit and hear what patients have to say.
"We've all had experiences going to doctors who don't listen; we want to train doctors who listen," said Dr. Clive Slaughter, who organizes community training for medical students at the Georgia Health Sciences University-University of Georgia (GHSU-UGA) Medical Partnership in Athens.
Slaughter believes that for these future physicians, serving and learning in impoverished and medically underserved Athens-Clarke County will undoubtedly have an effect on their future practices.
Athens-Clarke County, the home of UGA, is probably not a place that most Georgians associate with poor people. The area has many highly educated, affluent residents. But statistics reveal a high rate of poverty overall, and some neighborhoods are very poor.
The Medical Partnership is in its second year. Its non-traditional curriculum, which relies on small class sizes and early community involvement, appears to benefit both students and low-income residents of Athens-Clarke County.
When future physicians have early contact with the complications of poverty and health care, it stays with them, says Slaughter, an associate professor and faculty coach for students working in the community.
[youtube]http://www.youtube.com/watch?v=XBQZXYlATiI[/youtube]
An eye-opening experience
Boris Kovalenko, a first-year med student from Atlanta, had no idea Athens was among the poorest cities in the nation. He was shocked at what he learned when discussions in his Essentials of Clinical Medicine (ECM) course landed on social determinants of health and their consequences in the local population.
"We know that poverty influences whether we're healthy or not," said Dr. Laurel Murrow, community health director for the ECM course at the Partnership. That simple but easily neglected fact is part of what's discussed in the course, she said.
Through the course, Murrow helps organize the entering class of 40 students into five teams of eight members each, and then guides them as they work with selected community partners, typically on a weekly basis.
Last month, Kovalenko set out into the community for the first time as a member of the team serving the Athens Nurses Clinic, a nonprofit, nurse-run organization providing free health care to homeless and uninsured people. There, a patient told Kovalenko how she had almost died of pneumonia due to lack of health insurance.
A 20-minute conversation with a patient, knee-to-knee in a cramped room that has seen better days, makes a far deeper impression than reading about population health in a textbook, said Kovalenko. "It puts more emotion into what we're learning about."
Second-year med student Nitya Nair agrees.
"It's personally affected me," Nair recalls of her first-year community-based learning experience in Athens. Nair was undecided about her future specialty when she started medical school. But then her clinical team worked at a local Early Head Start program where asthma is prevalent, and they taught the parents and kids about asthma diagnosis and management.
"I was thinking more of specializing in other things before I walked in, but when you start working with these kinds of projects, it pushes you toward primary care and towards doing things that will affect those right around you," said Nair.
Keeping doctors from drifting away
Turning out new doctors who want to stay nearby is exactly what the Georgia Health Sciences University hoped for when it partnered with UGA to open up the Athens campus.
Georgia suffers from a shortage of primary care physicians. And according to recent national studies, the state's need for doctors is growing, not shrinking. Doctor shortages are greatest in impoverished areas, and Georgia is the third-poorest state in the nation, according to the Census Bureau.
Unmet medical needs are especially acute in Athens, where more than one in three residents lives under the national poverty level.
In Augusta, home to the main campus of Georgia Health Sciences University, nearly one in four people lives in poverty. In Atlanta, where Emory and Morehouse train doctors, the poverty rate hovers at more than one in 10.
At the Partnership, educators like Slaughter and Murrow are trying to make the best of this situation by stepping up contact between physicians-in-training and people who need care. Their curriculum fosters two-way communication, so doctors listen to patients and patients return the favor.
Each learns from the other. The end result, the educators hope, will be physicians who listen, who hear what is needed, and who resolve to remain in Georgia to provide quality care.