Woodstock — Mark Hudgins arrived at 5 a.m. Saturday and in ''a lot of pain.''
Hudgins, 53, a construction worker from Canton, has been unemployed for several years, and has no insurance. The pain had been going on for a long time, he said, and then pointed to one of his upper teeth.
He was among more than 2,000 people treated at a two-day free dental clinic, run by volunteer dentists and other health professionals, at the First Baptist Church of Woodstock.
Many of the clinic patients, like Hudgins, are unemployed. And many have postponed dental visits for years.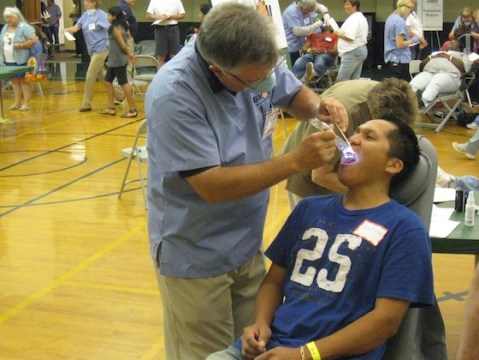 "There ain't nothing like a bad tooth,'' Hudgins said, sitting in a line of people awaiting an extraction. He was encouraged that afterward, ''this pain will be gone for good.''
The mass of people coming Friday and Saturday to the clinic took some dental professionals by surprise.
"It's overwhelming,'' said Dr. Paul Kudyba, a Sugar Hill prosthodonist who was serving people with full and partial dentures. "We cannot come close to meeting demand. These technicians are maxed out.''
More than 300 dentists and hundreds of other health professionals volunteered for the event. Patients received cleanings, fillings, extractions, dentures and root canals, along with information about dental health.
The event, called Georgia Mission of Mercy, followed similar clinics in 17 other states.
'No dental safety net'
Joanna Richards of Cartersville received a full upper denture and a partial lower one. She, too, arrived at 5 a.m. Saturday, and said it was ''worth the wait.'' It had been ''some years'' since her previous dental visit, Richards said.
While roughly 20 percent of Georgians have no health insurance, a much higher percentage lack dental coverage. Even in the best of economic times, only about half have dental insurance, according to the Georgia Dental Association.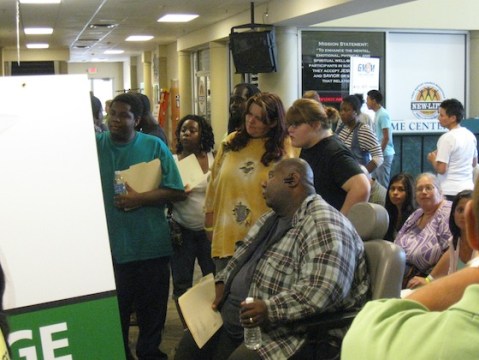 "We know there is no dental safety net for adults in this state,'' said Martha Phillips, executive director of the Dental Association, which sponsored the free clinic. One constant theme among the clinic patients is that ''people have lost jobs,'' Phillips said.
Phillips said church groups brought homeless people from Atlanta to the dental clinic, as well as women from a domestic violence shelter.
Added Doug Torbush, a Conyers dentist: "We have some who have never been to the dentist. And it shows.''
After going through triage for dental and medical problems, patients were ushered to a large downstairs room where dentists and assistants kept a steady flow into 100 dental chairs, with distinct areas for cleanings, extractions, root canals and fillings.
June Carpenter of Woodstock, waiting for a cleaning, said she felt ''like I'm one of the lucky ones,'' not needing major work. She has been unemployed for three years.
Carpenter arrived at 10 a.m. Friday, finding out she was too late to get seen that day. So, she said, "I got here about 4:30 this morning.''
Jerard Stokes of Atlanta said he slept in his car overnight. He was in line for a root canal.
Waiting in the chapel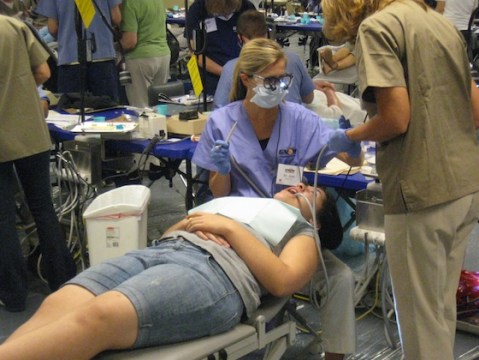 Scores of businesses, foundations and individuals donated supplies, equipment, money and volunteer time.
Patients not able to be seen and those needing more dental work were referred to community clinics.
By noon Saturday, a number of people waited in the main chapel as a group called the ''maybes.'' That is, maybe there would be time to see them.
One was Danny Allen, 32, of Waleska, who works at a Goodwill. He has been in pain for two weeks, he said "I couldn't sleep last night,'' he said, pointing at his mouth.
Allen then got a hopeful sign, and joined a row of would-be patients heading toward the treatment area.
By the end of the day, all the chapel ''maybes'' were able to get treatment.