Bipartisan agreement on health care reform? Hardly.
But a panel of five state legislators – three Republicans and two Democrats – did agree on the need to control health care costs and to make fixes in the state's Medicaid program, at a forum Friday at Emory University Hospital Midtown.
The panel of Sens. Renee Unterman (R-Buford) and Curt Thompson (D-Tucker) and Reps. Valerie Clark (R-Lawrenceville), Pat Gardner (D-Atlanta) and Chuck Martin (R-Alpharetta) fielded questions on a proposed insurance exchange, Medicaid and the 2010 reform law, officially known as the Affordable Care Act.
The audience consisted of social workers, discharge planners, nurses and other health care workers, all attuned to the hodgepodge of problems in the health care system.
Opinions on health reform clearly split along party lines. Unterman, a former nurse who's chairman of the Senate Health and Human Services Committee, said she believes the reform law will be repealed, while Thompson said he believes in "full and robust compliance with the law. . . . I expect this law is here to stay."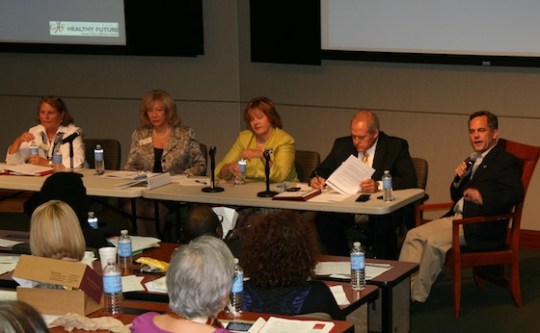 The health reform law requires an insurance exchange operating for small businesses and individuals in each state in 2014. A state committee, appointed by Gov. Nathan Deal, is working on developing such an exchange, even though Deal is a staunch opponent of the Affordable Care Act and Georgia is one of numerous states that have banded together to fight it in court.
Unterman said that if exchange legislation passes next year, "it will be around small business pooling together.''
Gardner, who's on the exchange committee appointed by the governor, said the health insurance marketplace "is not working for small businesses and individuals.''
The state has a responsibility to find a way to make insurance affordable, she added.
The consensus of the five legislators at Friday's forum was that doctors and other medical providers should be paid higher rates under the Medicaid program, which covers 1.5 million poor and disabled Georgians.
Unterman also cited doctor shortages in rural areas, gaps in dental care, and hurdles in credentialing of physicians. She noted that the new Department of Public Health would be trying to address health problems such as infant mortality.
Clark backed malpractice reform, while Martin supported making coverage portable from job to job. "We have to work on the cost of health care,'' he said.
At the end came a question about people who are not legally in the United States getting hospital care – specifically, dialysis.
Two of the answers on this issue showed a divergence of opinion similar to the one elicited by the Affordable Care Act:
Democrat Thompson talked about comprehensive immigration reform. Republican Martin said he doesn't agree with spending money to care for illegal immigrants at a time when many legal residents, including children, do not have health insurance.
CEU Concepts coordinated the Friday event, which was sponsored by Visiting Nurse, Care Medical, Coram Specialty Infusion Services, Personal Care Inc. and Sunrise Senior Living.