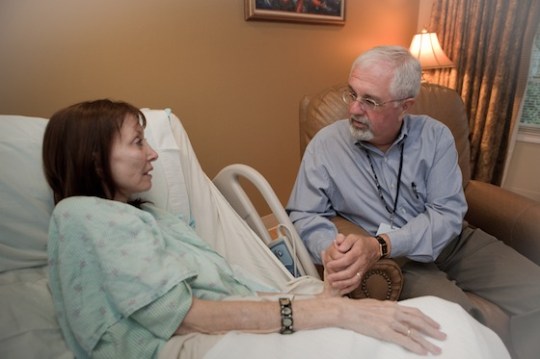 Care not properly coordinated. Failure to assess quality of care and improve it. Not properly evaluating and supervising health aides' work.
Those are among the most frequent complaints cited by state regulators against hospice operators in Georgia.
In one case last year, a Fayetteville hospice organization faced having its permit revoked after Georgia regulators flagged the company for the state's most serious violations — including two that either caused death or serious physical or emotional harm or posed an "imminent and serious threat'' to a patient.
Of course, hospice problems are not unique to Georgia. Regulatory issues and concerns about quality of care – some even expressed by industry groups – have continued to come up despite the generally benign public image of hospice care.
Hospice is a welcome choice for families who have a loved one with a terminal illness. It provides emotional support and pain management during a person's final days, typically in the home. And hospice is a cost-effective alternative to expensive no-holds-barred medical procedures, saving the health care system thousands of dollars in end-of-life care.
As use of hospice has increased — to more than 1 million Americans and 33,000 Georgians a year — so has the number of organizations providing it. Georgia's licensed hospice providers have doubled in the past 10 years.
The supply of hospices nationally rose 50 percent from 2000 to 2009, with an increase in for-profit businesses driving most of that growth. About 50 percent of hospice providers in the United States are for-profit businesses, but the percentage in Georgia is more like 75 percent, says Jennifer Hale, executive director of the Georgia Hospice and Palliative Care Organization.
Federal officials are monitoring the industry more closely after annual Medicare spending on hospice care quadrupled from 2000 to 2009. It has now surpassed $12 billion a year.
Amid the boom, industry trade groups have made the unusual call for more oversight of hospice providers.
Georgia does not have enough regulatory personnel to monitor the industry adequately, Hale says. "There is a direct correlation between oversight and quality,'' she says.
Consumers have no clear way to evaluate the quality of the services provided before picking a hospice, either in Georgia or elsewhere. Unlike with hospitals and nursing homes, "there is nothing to allow consumers to compare quality,'' Hale says.
A national trade group is calling for more monitoring. "We have been frustrated for years that hospices have not received enough oversight,'' says Judi Lund Person, a vice president of the National Hospice and Palliative Care Organization.
The average hospice is surveyed every six to eight years, she says. "We've proposed every three years,'' she says.
"It's not normal for an industry to say, 'We want more surveys,' " Lund Person notes.
Georgia regulators, though, say hospice inspections occur more frequently here — every 21 to 36 months.
How serious is the problem?
Hospice is no more prone to problems than other health care providers, says Brian Looby, division chief of Healthcare Facility Regulation, part of the Georgia Department of Community Health. Even though state agencies must "do more with less,'' Looby says there are enough personnel to do regular inspections.
Mark Oshnock, president and CEO of the nonprofit Visiting Nurse/Hospice Atlanta, sees a different picture. "It's too easy to hang a shingle out to be a hospice business,'' says Oshnock. "To adequately regulate the large number of hospice providers is virtually impossible.''
There's a saturation of hospices in metro Atlanta, Oshnock adds.
But rural areas of the state remain underserved.
One for-profit company, Doctor's Hospice of Georgia, with more than 20 locations in the state, is under a state probationary period for a year after regulators found serious violations connected with its Rome and Fayetteville operations. The company agreed to pay a fine in a consent agreement, but the agreement did not revoke its permit, as had been threatened, and the company did not admit to violations in the most serious category.
The national health reform law of 2010, officially known as the Affordable Care Act, addressed hospice care by requiring the Centers for Medicare and Medicaid Services (CMS) to reform the payment structure.
Medicare currently pays a flat daily rate for hospice care, making long stays, which generally have lower intensity of services, more profitable than short stays.
"Hospices can maximize reimbursement with long length of stays,'' Oshnock says.
More than 50 percent of Visiting Nurse/Hospice Atlanta patients have less than two weeks to live when they are admitted to hospice, Oshnock says. He adds that the organization delivers more than $750,000 of uncompensated care to uninsured hospice patients annually.
For-profit hospices in 2007 had a higher percentage of patients with diagnoses — such as dementia — associated with lower medical needs and longer stays, according to a study earlier this year in the Journal of the American Medical Association.
Nonprofit hospices may be left "disproportionately caring for the most costly patients – those with cancer and those tending to begin hospice very late in their course of illness,'' the authors of the study wrote.
Medicare, though, caps the total amount a hospice can collect per person each year.
Low profits and reports of fraud
The profit margin for hospices is low, Hale says. Yet she adds, "Some players try to game the system.''
One proposed reform is to have higher payments per day at the beginning and end of a stay, and lower payments per day as the length of a stay increases.
Individuals are eligible for hospice coverage under Medicare if they have a life expectancy of six months or less, yet 19 percent of hospice recipients receive services for more than that length of time.
Kaiser Health News recently reported that the federal government obtained a $24.7 million settlement with SouthernCare, an Alabama-based for-profit hospice company, after a whistleblower lawsuit claimed the company fraudulently enrolled patients.
One patient admitted to hospice in 2002 was healthy enough five years later to stroll around his yard at home, KHN reported, citing the findings of a medical review auditor, Nancy Romeo, who filed the whistleblower suit. SouthernCare admitted no wrongdoing. (The company has four locations in Georgia.)
The U.S. Health and Human Services inspector general is now investigating unusual patterns of hospice stays, Kaiser Health News reported.
The national Visiting Nurse Associations of America says there is abuse in hospice referral patterns, with patients steered through inappropriate arrangements to certain providers.
The Affordable Care Act also requires hospices to submit quality-of-care data to CMS. Those that do not will be subject to a pay reduction in 2014.
Dr. Donald Berwick, administrator of CMS, said recently in an interview in Atlanta, "We have to work on improving quality'' in hospice services.