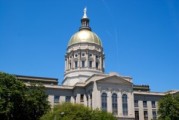 As it closes this week, the 2011 General Assembly will rank as one of the most important legislative sessions for health care in recent years.
That's not only because of the bills that passed. Even defeated proposals drew high-octane debates over significant health issues.
Georgia's Legislature typically deals with scores of health care bills, but this year, the legislative lineup appears to have more oomph.
The topics covered the waterfront: health care reform, aging, public health, prescription drugs, insurance, fraud, driving safety, medical providers, and conditions such as mental illness and HIV.
Major legislative approvals include a bill to create a stand-alone Department of Public Health. That division has been buried within huge state agencies, leaving it ''in a mess,'' said lead sponsor Rep. Mickey Channell (R-Greenboro).
The $600 million division will become a Cabinet-level department, with its own commissioner and board, reporting directly to the governor. Supporters of House Bill 214 hope Public Health will finally get the attention and clout it needs to improve Georgia's lagging health statistics. "It's a historic bill,'' said Sen. Renee Unterman (R-Buford).
Assisted living changes
Another major development came with the revamping of state regulations for assisted living facilities. After 16 years of trying to change the assisted living rules, consumer advocates celebrated a legislative victory Tuesday, with the House approving the Senate Bill 178.
The legislation would allow more people to remain in assisted living facilities rather than being forced into nursing homes if they needed help in getting around or with medication. "This is a consumer choice bill,'' said Kathy Floyd of AARP Georgia. It will allow more seniors to ''age in place,'' she said.
Also heading toward the governor's desk is a new database to track prescriptions of controlled substances such as oxycodone, Xanax and morphine. The database would help the state fight ''pill mills,'' which dispense such medications illegally, the bill's supporters say.
And the General Assembly passed a bill that would require more children to ride in car booster seats – raising the age to all kids under 8.
Insurance exchange uproar
The health care proposals that failed included a bill, backed by Gov. Nathan Deal and Republican leaders, that would have established the mechanism for a health insurance exchange, which is required under the health care reform law. Deal and Insurance Commissioner Ralph Hudgens argued that the state should proceed in creating an exchange, despite Georgia's pending lawsuit to overturn the Affordable Care Act.
But Tea Party activists raised sudden opposition to House Bill 476, citing its ties to President Barack Obama and the reform law. So Deal pulled the legislation from consideration.
Cindy Zeldin of the consumer advocacy group Georgians for a Healthy Future said she hopes that Georgia can still make progress on an insurance exchange.
"A health insurance exchange, if done well, could really transform the health insurance marketplace into a fairer, more consumer-friendly market,'' she said.
Also failing to pass but creating an uproar was an attempt to fight Medicaid fraud by requiring smart cards and fingerprint identification of beneficiaries. Supporters said that the bill would help stop ''card swapping,'' while consumer advocacy groups argued that the current anti-fraud task force successfully targeted the big-dollar perpetrators of fraud: medical providers.
A proposed revamping of Georgia's hospital tax never got out of the starting gate. Nonprofit hospitals, though, avoided a possible lifting of their tax-exempt status, as proposed by the tax reform council.
Cigarette tax stymied
To help raise money for health programs – and to reduce smoking – consumer advocacy and medical groups pushed for a $1 increase in the state's tax on cigarettes. The tax reform commission also backed a cigarette tax increase, albeit a smaller one. But with opposition from the Georgia Association of Convenience Stores, the tax idea didn't go anywhere. "We have the lowest [cigarette] tax of any state around us,'' said June Deen of the American Lung Association's Georgia chapter, who noted the tax hike had ''powerful opponents.''
Mandated coverages in health insurance policies drew lawmakers' attention, with one bill creating a commission to study the effect of these required benefits. A second proposal, House Bill 47, passed the Senate on Tuesday after a passionate, three-hour debate. The bill would allow health insurers to sell individual policies from other states that have fewer required coverages. The goal, said Rep. Edward Lindsey (R-Atlanta), "is to increase competition and lower costs.''
As usual, the budget-writing process for the Medicaid and state employees health plan was contentious. Deal's original Medicaid budget stripped adult beneficiaries of dental, podiatry and vision benefits, and would have imposed a 1 percent pay cut for doctors and other medical providers treating Medicaid and PeachCare patients.
But later budgets approved by legislative committees restored the adult Medicaid benefits, and reduced the pay cut for doctors and dentists to 0.5 percent. Nursing homes were exempted from the reimbursement cut.
Teachers face premium hike
Still, another percentage looms large over the budget: an increase of at least 10 percent increase in health insurance premiums for hundreds of thousands of teachers, state employees and retirees in the State Health Benefit Plan. That comes on top of furloughs for these employees.
Meanwhile, the budget failed to alleviate a growing waiting list for people with HIV to get government drug assistance.
A proposal to lengthen renewals for Medicaid to 12 months from six months – long sought by patient advocates – appears to have died amid the last-minute budget wrangling. Earlier, a bill to help Georgia families who appeal Medicaid denials of benefits failed to move forward.
A bill that would pave the way for more mental health courts in Georgia cleared the House on Tuesday.